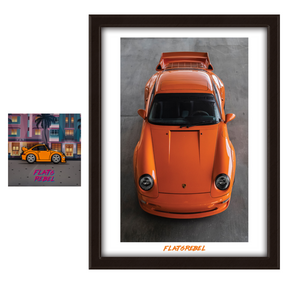 N A R A N J A - P I N & P R I N T
Regular price $65.00 Sale
N A R A N J A - P I N 
Resembling the iconic 993 GT2, N A R A N J A was built from the ground up with each detail in mind. We proud to offer this LE L E E N  C U S T O M S x FLAT6REBEL P I N. 
LE of 250 pc. P I N Set Randomly Selected
LE N A R A N J A - P R I N T
All of the prints will be printed on the highest quality Giclee archival ink and paper Made by Canon Professional level inks and papers. It is an enhanced matte print. Does not include frame, just print itself. 
SIZE: 18inx24in 
LE of 30 prints.
*1 UNIT PER CUSTOMER. ORDERS WITH 2 OR MORE WILL BE FULLY REFUNDED. NO EXCEPTIONS